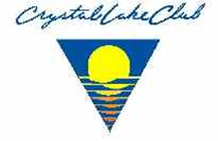 2017 Rules & Regulations

---
Membership
The following are eligible for membership at Crystal Lake Park:
1. Stockholders in the Crystal Park Development Corp.
2. Current Silver Lake Country Club (SLCC) members
3. Legal residents of Silver Lake Village
4. Families sponsored by any of the above who are current members
Membership is subject to the payment of the current year's membership fee as established by the Board from time to time. Each year, membership may be limited to a number to be determined by the Board for safety reasons and to preserve an enjoyable environment. The priority for acceptance as a member, when membership limits are set by the Board, shall be established in the same eligibility listed above.

Registration
1. Each member of the Club is required to present their photo ID card and sign the register by the main gate before using the facilities. Reservation books for tennis courts are at the gate. Reservations for picnic tables may be made with the manager. The replacement fee for a lost card is $5.
2. All members must enter using the main gate. The back gate is to be kept locked for security reasons.

Guests
1. Members must accompany all guests, register their names and pay the scheduled fee. It is not possible
for a staff member to be present at the gate at all times, so members are asked to pay the fees as soon as a staff member is available.
2. Guests will be asked to wait until their host(ess) arrives to register and accompany them in the park at all times.
3. Members' children who have established households away from their parents' homes cannot continue their use of the Club on their parents' membership, except as provided above.
4. Guest Fees: $10.00 for each guest (2-64 years). $5.00 for each guest 65 years of age or older. Children under two years of age and under are admitted free.
5. Anyone who is eligible for membership under categories (1) and (3) of the membership rules, or who lives within a 5-mile radius of the Park, but is not a paid member may be invited as a guest only once during the season. Please note that this includes non-member Silver Lake children.
6. Guest regulations are subject to change by the Board for special events.

General
1. All members and guests shall exercise good taste and respect for the rights of others at all times. The
manager or his/her designated assistant may enforce this provision by asking a violator to leave the premises.
Serious violators will forfeit the season's membership.
2. Rules and regulations are intended to keep Crystal Lake Park an enjoyable, safe and beautiful family-oriented recreation area for the exclusive use of our membership. They are subject to change at the
discretion of the Board.
3. No alcoholic beverages or illegal substances are permitted in the Park and glass containers are restricted from the beach area.
4. Hours of operation for the beach are 10:30 a.m. to 9:00 p.m. on weekdays, and 10:00 a.m. to 9:00 p.m.on weekends and holidays, except for activities specifically permitted by written agreement and specific Board approval and except as otherwise posted.
5. No smoking is permitted on Crystal Lake property.

Picnicking
1. Picnic space can be reserved in advance. The manager will assist you with this. A grace period of 30 minutes will be allowed before reservations are forfeited. A schedule of each day's reservations is available at the gate. Please sign up for the tables before using them.
2. Picnickers should leave the picnic area clean and neat and extinguish fires in grills when finished.
3. No picnic activity is permitted after closing at 9:00 p.m.
4. The pavilions can only be reserved by advance payment. The pavilions may be rented for a half-day: either from opening to 3:30pm or 4:00 to closing at a rate of $65 for the Pines pavilion (includes 13 guests), or $125 for the Lakeside pavilion (includes 25 guests). The pavilions may also be rented for the full day: from opening to close at a rate of $125 for the Pines pavilion (includes 25 guests), or $250 for the Lakeside pavilion (includes 50 guests).
5. Picnickers may reserve tables from opening to 3:30 p.m., or from 4:00 p.m. to 9:00 p.m.
6. Parties over 50 people must be approved by the Board of Directors in advance, and a mandatory $50 will be added to the rental fees.

Swimming
1. Swimming is permitted only in the designated beach area and only when lifeguards are on duty.
2. Children under 12 yrs. old who have not passed minimum deep-water proficiency tests must be accompanied by an adult in the beach area.
3. The only flotation devices permitted are water wings, noodles, or inner tubes with seats when used under direct parental supervision, and small devices which fit snugly around a child's body when used under direct parental supervision. These must be children's toys. Parents must supervise children who are using floating toys. Floating toys are not allowed beyond the roped area.
4. Running, playing tag, and similar conduct are prohibited on the dock and in the beach area. Horseplay is
prohibited in all areas.
5. Swimming under the docks is prohibited.
6. Diving is permitted only from diving boards and in specified deep water areas.
7. Lifeguards are authorized to enforce the rules and remove persons who do not follow these rules.
8. No pets are allowed on park property

Fishing
1. Fishing is permitted is permitted throughout the Crystal Lake season, from dawn to dusk daily.
2. Night fishing, from dusk to dawn, is never permitted.
3. Post-season fishing, from dawn through dusk, will be permitted from Labor Day through November 15th for members who have purchased a key and signed a Key Agreement.
4. Pre-season fishing, from dawn through dusk, will be permitted beginning April 1st each year for members who have purchased a key and signed a Key Agreement.
5. Shore fishing is not permitted except in the area just north of the rowboat docks and upon the fishing dock.
6. All bass between 14 inches and 18 inches must be returned to the lake. No fish of the pike family
(northern pike, muskies, chain pickerel) can be removed from the lake. There are no catch limits as to size or
quantity of other types of fish.
7. No fishing license is required for fishing at Crystal Lake.
8. Fisherman are expected to clean all trash and old bait from the boats after using them.
9. Locks are changed on Opening Day.
10. No fishing with minnows is permitted.
11. Fishing will be permitted by fishing pole or throw line only.

Tennis and Basketball
1. A player must register and also register guests' names at the manager's office. The fee for guests is $10.00.
2. Courts may be reserved a day in advance. Two players must be on the courts at starting time or the reservation is forfeited. As a courtesy, please cancel if the reserved time is not going to be used.
3. When courts are busy playing time is limited to 1 hour.
4. When courts are busy, consider playing doubles.
5. Tennis shoes must be worn on the courts.
6. Please avoid undue tension on the tennis net cables. Net height at the center is length plus width of the racket (3 feet).
7. Rowdy behavior and horseplay are not tolerated on the courts. Changing the tennis roster without manager's permission is not permitted. Offenders will suffer the loss of privileges.
8. Lessons are given only by the Crystal Lake tennis instructor.

Boating
1. No more than two adults are permitted in a rowboat or two adults and two small children; no more than two adults and two small children permitted in a paddle boat.
2. No motors, except electric trolling motors are permitted, except for motors owned by Crystal Lake and used by staff.
3. Member-owned boats may be used on Crystal Lake only with permission of the manager and may be moored on Crystal Lake in the assigned area only. Boats may not be launched or landed other than in the designated beach areas near the rowboat docks. No boating from private property.
4. Fishermen have priority at any time for the use of club-owned boats.
5. The manager and his/her staff are authorized by the Board to prevent potentially dangerous or annoying boating practices and to remove boating privileges, if necessary. In this regard, reckless operation of boats (such as deliberately upsetting) is strictly prohibited.
6. No children under age 12 will be permitted to use boats (personal boats included) without the provided "Boat Permission Form"signed by his or her legal guardian and submitted to the manager. It is the parents' responsibility to enforce this rule.
7. No children under age 12 will be permitted to operate any boat unless the child is under direct visual and audible supervision of a person who is eighteen years of age or older. The family shall be responsible to provide such supervision; reliance on Crystal Lake staff will not be permitted. Children under 12 must pass a
competency test given by the manager to operate a kayak. No child under 12 shall operate a kayak outside the marked area without an adult supervisor accompanying the child in a nearby boat.
8. Only persons 16 years of age or older may operate a boat with a trolling motor. For specially permitted
activities outside the general hours of operation, the limitation upon operation of such boats is more restrictive and set by the separately published Conditions and Terms of Gate Key Acquisition and Use.
9. Adults 18 years of age and older are not required to wear life preservers while boating, but must have a life preserver aboard their craft at all times. This applies to all boats. Any person who is in a kayak must wear a life preserver at all times regardless of age. Everyone must stay with a capsized boat until help arrives.
10. Children age 17 and younger must wear life preservers at all times while boating. This applies to all boats.